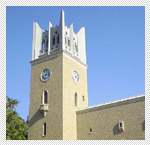 Igarashi Used and Antiquarian Books is located in Shinjuku, Tokyo, near Waseda University, one of Japan's elite private universities. For 45 years we have been at the same location on Waseda-dori, a "college town" known for its abundance of inexpensive eateries, coffee shops and multitude of new and used bookstores.
Our shop comprises two floors. On the ground level are books covering a wide range of subjects, with particular emphasis on the arts, modern thought and cultural studies. Our lower level is home to scholarly works related primarily to pre-modern Japan, including history, literature, language, religion and thought. In display cases on both floors are various rare and antiquarian materials, including wahon, traditional woodblock-printed books, signed copies, limited editions, and other notable materials.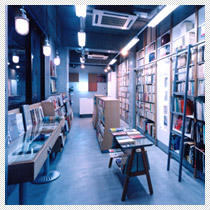 Due to space limitations, only a select group of items from our total inventory is on display at any given time. We have a wide array of scholarly material--principally in the subject areas mentioned above but also including modern Japanese and foreign literature and some social sciences--in a nearby storage facility.  If you are unable to find an item on our shelves, please ask us to check our online database of holdings.  We also make a concerted effort to locate items not currently in stock.
Since we deal primarily in scholarly materials, we have long been a resource for faculty and students from not only nearby Waseda University, but also universities and research and cultural institutions throughout Japan. In the past ten years we have expanded to the Internet, which has extended our reach to customers in countries around the globe. Among our clients are major U.S. universities with East Asian library collections, and academic institutions and scholars throughout Europe, China and Korea.
We are experienced with shipping materials overseas and with international financial transactions. Please feel free to contact us in either English or Japanese.
Areas of coverage:

Scholarly writings (Japanese language and literature; Japanese history; Japanese religion, philosophy and intellectual history—principally but not exclusively, related to pre-modern Japan)
Collected works of individual authors
Monographic series and collections
The Arts (theater, fine arts, photography, etc.)
Wahon
Ukiyo-e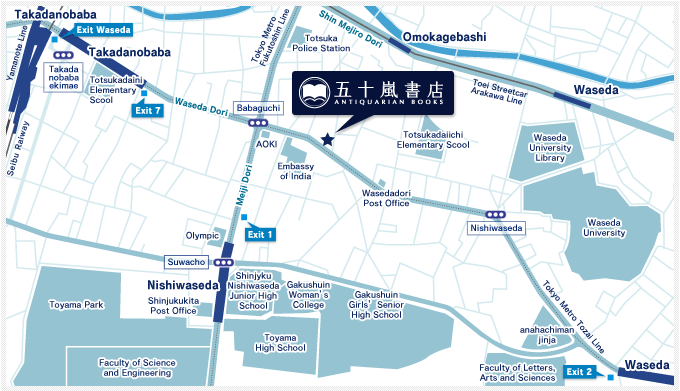 Location:
3-20-1 (Stonewall Building), Nishiwaseda, Shinjuku-ku, Tokyo
169-0051
Hours:
10:30 AM– 6:30 PM, Monday through Saturday, including most national holidays.
Closed Sundays.
Directions:
By train
JR Yamanote line or Seibu Shinjuku line:
Takadanobaba Station, Waseda Exit. Walk approximately 10 minutes along Waseda-dori in the direction of Waseda University, past the main intersection of Waseda-dori and Meiji-dori. The store will be on the left side of the street.

Tokyo Metro Tozai line:
Takadanobaba Station, Exit 7. Walk approximately 7 minutes on Waseda-dori toward the Waseda campus, as above. The store will be on the left side of the street.

Tokyo Metro Tozai line:
Waseda Station, Exit 2. Walk approximately 12 minutes on Waseda-dori toward Takadanobaba Station. The store will be on the right side of the street.

Tokyo Metro Fukutoshin line: Nishi Waseda station, Exit 1. Turn onto Waseda-dori at the intersection and walk approximately 6 minutes in the direction of the university. The store will be on the right side of the street.
Directions:
By taxi or car
From the intersection of Waseda-dori and Meiji-dori (Baba-guchi), drive east on Waseda-dori approximately 200 meters.